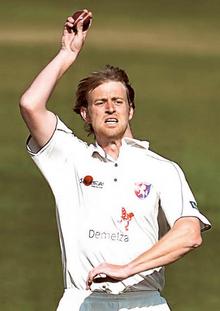 By Alex Hoad
Kent seamer Mark Davies said his surprise player-of-the-year award means even more to him because he had been considering his future in the game before joining the club.
Davies – who turns 32 next week – spent 15 years at Durham but injuries limited him to a handful of appearances over the past three seasons before he joined Kent on a one-year-deal ahead of the 2012 season.
Davies (pictured) claimed 36 wickets at an average of 19.41 in 15 first-class matches this season with a further seven in Twenty20 cricket. He also weighed in with more than 240 runs with the bat.
Davies admitted: "It was pleasing to win the award, I wasn't expecting it.
"I didn't think I did anything exceptionally well in any one area of the game but I suppose I played quite a bit in all forms. Consistency is one of my aims as a player."
He added: "To come from where I have been, with the injuries and hardly playing and having to think about your future, to here, feels good.
"I have loved this year. It felt like my first year on the circuit all over again."
Davies' success saw him offered a new two-year deal in the middle of the season and he's already looking forward to returning in 2013 after another winter of work in the North East with Jonny Wilkinson's former fitness coach Steve Black.