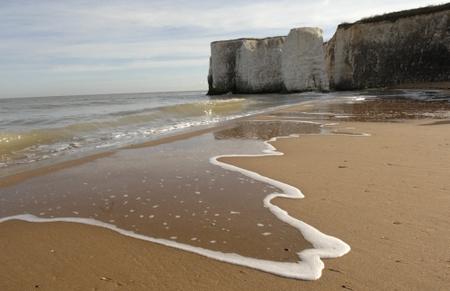 A sewage spill has closed all Thanet beaches for swimming.
Thanet District Council shut the district's beaches for bathing today as a precautionary measure.
It follows a failure at the Southern Water sewage pumping station at Foreness Point.
Red flags have been placed on beaches urging people not to enter the water.
Beach-goers are also urged to stay behind the high tide line.
It is likely Thanet's beaches will remain shut for bathing for at least two days.
Beach cleaners and litter pickers are working along the Thanet coastline, while council officers and Environment Agency and Southern Water officials assess the situation.
Jon Griffin, from the Environment Agency, said: "The Environment Agency are carrying out a full investigation and are working with Southern Water Services and Thanet District Council to reduce the impact of the spillages as much as possible.
"We will continue to monitor the bathing water quality over the coming days and will advise Thanet District Council accordingly."
It comes just a month after nine Thanet beaches were given prestigious Blue Flags - more than any other district in England.
Anti-litter charity Keep Britain Tidy awarded the status to Botany Bay, Joss Bay and Westbrook Bay for the fourth year running.
Sandy spots Minnis Bay, St Mildred's Bay, West Bay in Westgate, Margate main sands, Stone Bay, and Ramsgate main sands also regained the title.
Blue Flags honouring the highest quality in water, facilities and safety.