The Open Championship shouldn't be staged at a prestigious Kent golf club until its sexist rules are scrapped.
That's according to Kent MP Hugh Robertson, who has controversially declared clubs like Sandwich's Royal St George's Golf Club should not have the right to host the competition - because it doesn't allow full women's membership.
Royal St George's, which has hosted the championship 14 times including last year, has not commented on the row.
But Mr Robertson - government Minister for Sport and Faversham MP - said it put a "different slant" on matters when private clubs staged such high-profile public events.
He said it was fine for private clubs to have men-only membership, but he added: "I believe that when a private club fulfils a public function, such as staging a major event, then there is a different slant."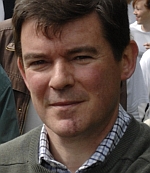 When asked whether he thinks men-only clubs should host The Open, he replied: "In all honesty, no. I think this issue should be addressed."
The club claims to be women-friendly and welcomes females in the clubhouse and to play within allotted times.
The Curtis Cup - the best known team trophy for women amateur golfers - has also been played there.
But in Deal Mr Robertson has come under fire from hotelier Ian Dunkerley for threatening the economic boost the Open brings to east Kent.
He said: "He should keep his nose out when it affects the economy of the South East.
"I believe he is talking out of his office."
As captain at Walmer and Kingsdown Golf Club, Mr Dunkerley disagrees with all-male clubs but he said The Open is such a positive force on the area that the minister's voice is "out of context", considering the benefits it brings to so many.
The selection of future venues for The Open is made by the Royal & Ancient (R&A). The R&A did not wish to comment.
Last year, The Open was reported to bring 180,000 into Kent for the four-day event, with many businesses profiting and residents making a buck by letting out their houses to golfers and visitors.