by Alex Claridge
Heartless Ivan Taylor fleeced a grieving 85-year-old widower out of thousands of pounds - and used his credit card to buy hardcore porn.
The 50-year-old plumber, from Wincheap, conned James Campbell by telling him he was due a massive medical negligence pay-out from the National Health Service.
Canterbury Magistrates' Court heard Taylor persuaded Mr Campbell to part with between £30,000 and £60,000 by depositing it in a special bank account he had set up.
He then used his victim's credit card to buy porn on the internet 14 times between January and June of last year.
Ruth Dalziell, prosecuting, said Taylor befriended Mr Campbell when he was recommended to him as a plumber in 2009, shortly after the death of his wife.
Mrs Dalziell told the court: "Mr Campbell's wife died very suddenly and he was very distraught. The defendant is an experienced fraudster and seized upon the death to use it for his own advantage.
"He told Mr Campbell he had lost his own wife, that the death was sudden and that he was to receive medical negligence from the NHS.
"He said he was going to receive £970,000 and Mr Campbell sympathised massively. The defendant used that sympathy to take money.
"Mr Campbell gave the defendant £3,000 to open a bank account. Taylor took between £30,000 and £60,000 from him over the next two years."
Mr Campbell, known to friends as Jim, branded Taylor "evil and wicked".
He said he wants to see the conman jailed, but fears the court may take a lenient stance because he has cancer.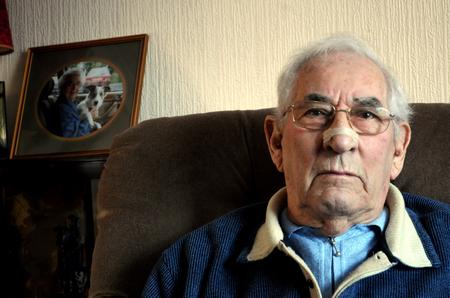 The great-grandfather is also uncertain if he will ever see any of the money Taylor relieved him of.
He said Taylor exploited him when he was at his lowest point following the death of wife Lucille from an aneurism three years ago.
"I was right on the floor when my wife died," Mr Campbell said.
"I hit the deck emotionally and he was there to help me. He even went to the funeral and came back to my house afterwards. I thought he was a marvellous man, but he took advantage of me."
All the time, callous Taylor was playing a long game to win Mr Campbell's trust and take his money.
He asked him for cash for various reasons, including buying his son a car.
"i'm not a vindictive person and i can't hate him, but he should go to prison..." – fraud victim james campbell
Taylor also took money for a caravan which he said they would jointly own and use for holidays. There was just one snag – it didn't exist.
To maintain his web of deceit, he concocted stories about why he hadn't yet received his money from the NHS.
This included setting up bogus visits at a solicitor's office in which he left Mr Campbell parked outside while he went in for a meeting, only to return later with a story about the delayed payment.
Mr Campbell said: "He guaranteed me I would get my money, but every time it came to that point he threw up some obstacle. What he did to me was evil and wicked and I feel a bit of a prat for falling for it.
"I'm not a vindictive person and I can't hate him, but he should go to prison despite what he says about his illness. It turns out everything which came out of his mouth was a lie."
Taylor, of Cambridge Road, admitted two counts of fraud by false representation and asked for the theft of a gold ring from another man and another fraud to be taken into account.
The court heard he has previous convictions for fraud and was given a 15-month sentence in 2006.
Magistrates transferred the case to Canterbury Crown Court for sentence. Taylor was released on unconditional bail.