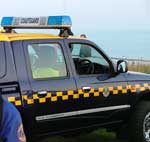 Two ships have collided in poor visibility in the English Channel.
The Maltese-registered Gas Artic, an LPG tanker which is carrying ballast, was on passage from Tees to Portland, with 14 crew aboard when it collided with the cargo ship Spring Bok.
Registered in the Netherlands, the Spring Bok was sailing from Amsterdam to Oranjestad, Aruba, and has 22 crew aboard.
Dover Coastguard said that when the ships collided visibility was less than half a mile.
Dungeness all-weather lifeboat was launched and the Coastguard also asked for assistance of HMS Tyne which was passing through the Dover Strait at the time.
Phil Davis, watch officer at Dover Coastguard, said: "The vessels have both incurred damage above the water line but are fully capable of making their way to Portland where they will be inspected."