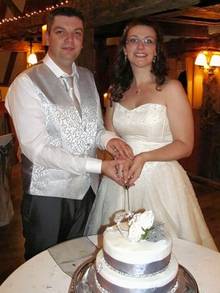 by Thom Morris
A stunned shopper complained about an out-of-date supermarket dessert - before finding the same product for sale 12 days later.
Laura Whitehead bought two portions of the low-fat Weight Watchers chocolate pudding from Asda in Greenhithe on October 25.
But as she went to spoon it into her mouth, Laura's 27-year-old fiance James spotted it was five days out of date.
Laura, Vimy Drive, Dartford, complained to the store manager as she feared her wedding day could have been ruined if she had gone down with food poisoning.
She and IT worker James tied the knot days later in Wrotham.
But Laura was astonished to find the same Weight Watchers product still on the shelves at the same branch of Asda, in Crossways Boulevard, when she visited again 12 days later on Tuesday. It was then 17 days passed its sell-by date.
Laura, 29, said: "Imagine my disgust. These products have a short life following manufacture, after which they may present a risk of food poisoning.
"Thankfully my fiance spotted this gross negligence, as without doubt if we'd
"these products have a short life following manufacture, after which they may present a risk of food poisoning..." – laura whitehead
eaten these five days past their use by date we'd have both ended up in hospital with food poisoning."
Laura added: "When I went into the store to lodge my complaint, the manager didn't take it remotely seriously.
"He shrugged and said it was human error and could give me 100 reasons why it might have happened.
"I was never refunded for the product. It was also not an isolated incident as the same product was still on the shelves 12 days later.
"I don't think this is remotely good enough. He said stock was checked twice a day for errors like this. That means that not only one person missed this, but the error was missed 10 times over the course of five days.
"A friend of mine bought out of date quiche from the store last year. Hers was three days out of date and she had food poisoning."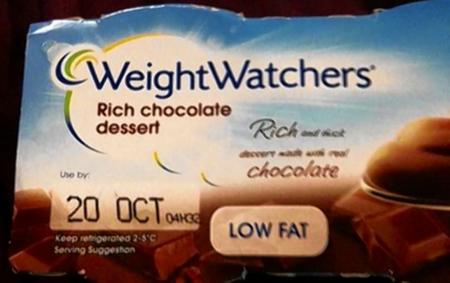 An Asda spokesman said the store prides itself on being able to offer the highest quality of products possible.
He said: "Unfortunately on this occasion it looks like we didn't live up to our own high standards.
"Human error led to this product hanging around on the shelves a little longer than it should have done, and we apologise to Mrs Whitehead for that.
"We can reassure your readers that the store has done a full date code check on all similar products and has found this to be an isolated incident.
"We have refunded Mrs Whitehead the value of the product and also given her a £10 gift card to make up for our mistake."