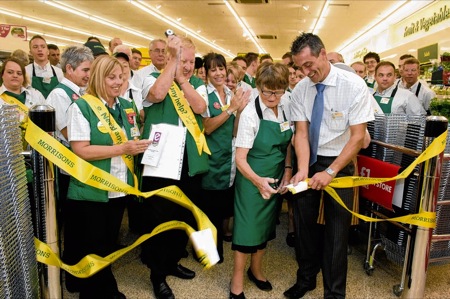 Manager Stuart Marlow and his staff open the new Morrisons store in Margate on Monday morning. Picture:Chris Davey PD1604325
Shoppers streamed through the doors of Morrisons' new Margate supermarket for the first time on Monday (July 27).
The former Somerfield outlet on Hawley Street has been transformed to include a collection of individual fresh food shops, including a butcher, baker and fishmonger.
Around 190 people are employed by the store and demand for vacancies has been remarkable, with more than 1,400 jobseekers applying for just 75 posts.
Stuart Marlow, the new general manager, who previously led Morrisons' Caterham branch, said: "The team has been working night and day to ensure that customers enjoy shopping, Morrisons style, from day one.
"Opening the doors and welcoming the shoppers of Margate was the reward for all the training and preparation."
June Lamb, the store's longest serving colleague, who started at Somerfield in 1976, cut the ribbon and welcomed the first customers shortly before 9am.
Morrisons - the UK's fourth biggest supermarket chain with 385 stores nationwide - employs 124,000 people and serves 10 million customers every week.