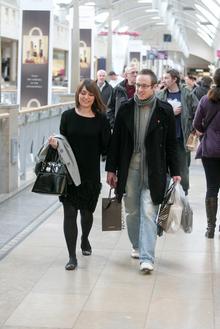 Shops across Kent are braced for the busiest day of the year today as shoppers snap up last-minute gifts.
Stores are expected to be more packed than last year's run-up to Christmas after the government rejected calls for longer opening hours.
Retail giants had last month asked for longer Sunday trading hours because the weekend falls close to the big day.
Small businesses in Kent are expected to benefit from extra trade - because they will be able to stay open for longer than six hours.
It comes as Bluewater predicts this will be its busieset weekend of the year with 275,000 shoppers expected through the doors.
The Greenhithe shopping centre has seen more than 600,000 vistors in the five days from Monday.
Bluewater general manager Robert Goodman said: "With this weekend being the last chance for many people to complete their Christmas shopping, we are expecting Bluewater to be very busy.
"Key sellers will be fashion, gifts and, reflecting the last minute shopping of some guests, lingerie and jewellery."