He was known as the man who ran gaming clubs for teenagers.
But pervert Benjiman Ward had another hobby so sick he kept it secret for more than a decade.
That was until his partner shopped him to police and kicked him out of their house in Readerscroft Road, Rainham, when she found he'd collected so many sickening images of children he needed a warehouse to store them.
Ward, who ran a Gamers' Guild club on Tuesday nights at the Rainham Community Centre, downloaded and made more than 10,000 indecent images of children and 1,000 movie clips, and regularly viewed extreme pornographic images of people engaged in sexual activity with live and dead animals - including dogs and horses.
But the 46-year-old escaped jail when Judge David Griffith-Jones gave him a suspended sentence and ordered he undertake a course of treatment for his sexually perverted obsessions.
In a hearing that will send shudders through former club members, Maidstone Crown Court heard how the 46-year-old's "deviant proclivities" had got so out of control he had to rent a storage unit in Gillingham Business Park to hide the burgeoning evidence of his dark addiction.
That addiction had first come to light back in 1998, when his partner's daughter discovered images on his computer, and Ward had promised to cure himself of his obsession.
But that was easier said than done - Ward couldn't shake his sick habit and his obsession carried on into the next millenium, until he eventually went to his brother, a psychotherapist.
"He said 'you have to tell your partner'," recalled defence barrister, Simon
"you have expressed remorse which i accept as genuine" – judge david griffith-jones
Wickens."
He does so. He's given four hours to get out the house and she rings the police."
Once reported, Ward immediately cooperated with police, leading them straight to his shameful collection and pleading guilty at the earliest opportunity to all 12 counts.
These were for possessing and making indecent and extreme images, two counts of possessing images portraying an act of intercourse with a dead or live animal, six counts of possessing images of children, including movie clips, and four counts of making indecent images of children.
Mr Wickens explained Ward had been exposed to sexual activity at a young age, adding "some might look at what he experienced as a form of abuse.
"That early sexualisation has led to an interest in and an obsession with pornographic images of children."
Ward was previously a man of good character who had established a successful career in computers, said Mr Wickens, and since admitting his problems had sought to find help for them - working with Lucy Faithful Foundation child protection agency, and attending Sex Addicts Anonymous (SAA) meetings.
And the former gaming club organiser had now set up a different club - his own SAA group - in an effort to help others.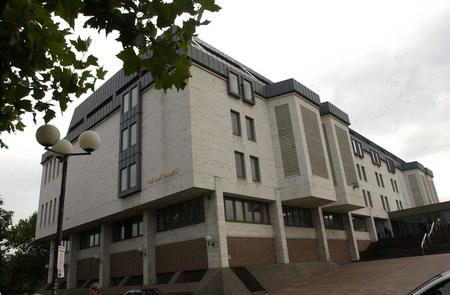 Obese with his grey hair tied up above his head, wearing a red fleece over his shirt and tie, Ward stood wide-eyed as Judge Griffith-Jones addressed him for sentence.
The judge said the images concerned fell into category four, in the scale of one to five, but added: "there's a fair amount of mitigation.
"You have expressed remorse which I accept as genuine. You stand before me as a result of a series of events that brought these matters to police attention after you yourself made disclosure of them to others, that being a result of your desire to address your deviant thinking."
He imposed a 10-month prison sentence suspended for two years, as well as a two-year supervision order. Ward will also be on the Sex Offenders Register for 10 years.