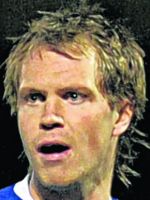 Gillingham are due to face Brighton in a behind-closed-doors game on Monday.
Gills manager Andy Hessenthaler admits, however, he will have to be careful with team selection as he doesn't want to add to the squad's already problematic injury situation.
"We will have to be careful and I am nervous," he said.
With no reserve team this season Hessenthaler needs competitive practice matches to keep those players on the fringes in good shape.
"Simon King (pictured) will have a run-out and we are going to try and get Charlie Lee involved in that, maybe for 45 minutes."
Lee could then be ready to return for the weekend match against Swindon.
Hessenthaler said: "Saturday's game was too quick but he can have 45 minutes and a good week. He is a spark and he could come back."
The Gills are also likely to field full-back Jack Evans and forward Dennis Oli.