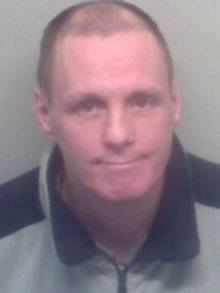 A thug who seriously wounded his half-sister and her partner while crazed on drink and drugs has been jailed for 14 years.
Nicky Wiggins, pictured left, knifed Sharon Taylor twice around the breast area and Kenton Hover once as "acrimonious" feelings within the family boiled over in a residential Sittingbourne street at night.
Wiggins' sister Anita joined in the violence and launched a cowardly attack on Mr Hover, stabbing him in the back. She was jailed for two years nine months.
Nicky Wiggins, of Laburnham Place, Sittingbourne, denied wounding Sharon Taylor and Kenton Hover with intent at his trial last month, but was convicted.
Anita Wiggins, formerly of Millfield Road, Faversham, denied wounding Kenton Hover with intent and assaulting Miss Taylor's daughter Elizabeth.
Now of Shortstown, Bedford, the 30-year-old mother was cleared of wounding with intent and convicted of unlawful wounding and assault.
Maidstone Crown Court heard how there was no love lost between Nicky Wiggins, 36, and Miss Taylor.
Trouble started brewing when Elizabeth Taylor, 23, telephoned her mother on the evening of May 14 last year and told her that Nicky and another woman had assaulted her at a kebab shop in Sittingbourne High Street.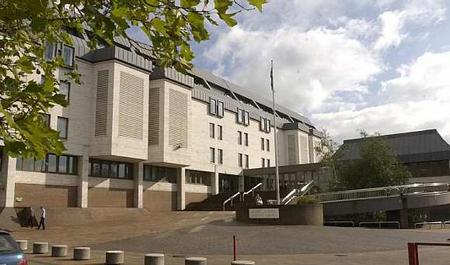 Miss Taylor, a horse trainer, and Mr Hover, a boxing judge, went into the town to pick up Elizabeth, who was there with her boyfriend Brett Stacey and his brother Gary.
They ended up in William Street, where Nicky Wiggins was clearing out the former home of his mother.
Fighting broke out and Elizabeth was set upon by Anita and another woman in an alleyway by the house. Miss Taylor went to help her daughter and she was then stabbed by Nicky Wiggins.
Wiggins grabbed her wig and threw it to the ground. She saw blood was "bubbling" from her top and realised she had been stabbed twice.
Mr Hover tried to grab the knife from Wiggins, but was stabbed in the stomach. His attacker, who was to admit he had taken cocaine, bragged "I have stabbed you. I have just ------- stabbed you."
As Mr Hover backed away, he was stabbed in the back by Anita Wiggins.
Miss Taylor needed surgery for a punctured lung and damaged diaphragm.
Mr Hover, a former Faversham barman, was treated for wounds to his abdomen and. A small section of his bowel had to be removed.