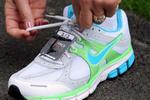 Sittingbourne Striders achieved a double victory at the Alan Green Memorial Thanet 10 mile road race on Sunday morning, writes Alan Newman.
There were 274 finishers led by Anthony Jackson in 57min9sec. Liz Weeks completed the double by winning the women's race in 61min37sec.
Jackson was pushed all the way by M40 master Andy McNeil (Long Eaton, 57.20). Another M40, James McNeil (South Kent Harriers, 61.26) was third.
Locals included Maidstone Harriers' Aaron Hughes (M40, 63.11), David Thwaites (63.44) and Adrian Perkins (M40, 65.46) plus M40 Tony Piper (67.19) of Dartford Road Runners and M40 Peter Buckingham (67.37) of Paddock Wood. Dave Thornby (Maidstone, 70.27) collected the M60 prize.
Liz Weeks' speed took her to fifth place overall, five minutes clear of Larkfield's Sarah Mooney (66.43). Faye Roberts (68.36) of Canterbury Harriers completed the rostrum.
Age group winners were unattached Sarah Gruber (W35, 68.56), Sharon Hawkins (W45, 70.22) of Maidstone Harriers and PJ Bowyer-Jones (W55, 82.46) of Larkfield.