Staring at the camera in a vile rubbish-strewn room, these neglected cats are a picture of sadness.
The 16 animals were rescued from a cramped north Kent house resembling a dump rather than a home.
The vulnerable cats are now being cared for by the RSPCA while inspectors investigate their previous owner.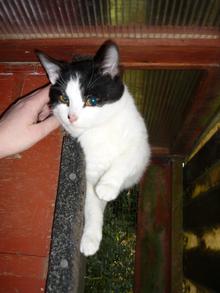 But the RSPCA are searching for loving new homes for the nervous animals.
The cats have never been outside, so will need to live indoors while they slowly gain confidence.
Sadly, they all carry the cat flu virus - so although none of them have flu at the moment, it could recur if they are stressed.
This would make them infectious to other cats, so they need to be the only cat in the house.
RSPCA Inspector Becky Timberlake said: "Some of these cats are timid at first, but then become more friendly.
"Others like being picked up for a cuddle and a fuss. They have all had a really difficult start in life, so if someone wants to do something amazing and adopt a cat that really needs their help, then these are the cats for sure."
Some of the cats are looking for homes on their own - others can go as pairs or in threes.
The RSPCA refused to reveal the location of the house during its investigation.
Anyone who would like to offer a home to one of the cats can ring the RSPCA on 01732 849352.