Drifting snow caused havoc for motorists trying to get home this evening.
The A260 leading up to Hawkinge - always a trouble spot in snow - was blocked by vehicles which could not make the hill.
Some cars were abandoned at the side of the road, with their drivers and passengers choosing to walk.
Traffic backed up to the busy roundabout off the A20.
Kent nline journalist Tricia Jamieson was stuck in the jam.
She said: "It was ridiculous." "It took me around three-quarters of an hour just to get along the slip road from the A20 to the roundabout.
"Cars were pulling onto the roundabout to go up the A260 but clearly couldn't
so just sat there.
"I saw a Highways Agency vehicle there, but no one was directing any traffic."
More snow is forecast for the area overnight.
Elsewhere in the county, commuters faced difficult journeys home this evening as poor weather affected roads and rails.
North Kent was particularly bad, with up to an inch of snow settling.
Blizzards buffeted parts of Kent as snow hit the county - particularly eastern areas - with a vengeance today.
Motorists have been enduring bad conditions on the county's roads as a severe weather warning was issued for the county.
This evening, Southeastern reported delays of up to an hour on some services to the county.
Earlier, the A20 was closed coastbound near Capel-le-Ferne after several crashes this morning.
Kent Police shut the stretch following three collisions, a jack-knifed lorry and fuel spillage near the Courtwood Interchange at about 8am.
Police asked drivers to avoid the area as forecasters predict snow showers and strong winds today.
The gusts, predicted to reach more than 60mph in the Channel, will make it feel as cold as -7C.
The Met Office was today warning of potentially heavy snow across Kent .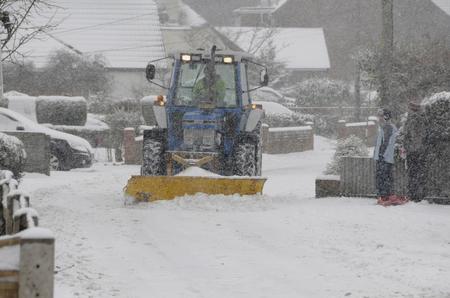 Gales, or even severe gales, could hit the coast, they warn.
The forecast comes after gritters were out across the county last night. Most roads were this morning clear, with the snow showers kept to a minimum.
But drivers are warned to wrap up warm - the cold spell and snow could last into the middle of the week at least.
Meanwhile, on the ferries, DFDS Seaways has seen delays of up to two hours due to the bad weather.
P&O passengers have been forced to wait up to an hour on its Dover to Calais route, due to the snow.