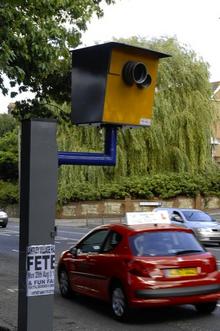 by political editor Paul Francis
Cash raised by individual speed cameras in Kent is to become public for the first time.
Ministers have ordered all councils and police forces to reveal much more detail about speed cameras, saying the public has the right to know how effective they are.
Under the government's plans, councils will be ordered to publish the figures showing how many accidents and casualties have happened at each camera site, along with comparative figures showing the same data before cameras were installed.
The Kent and Medway Safety Camera Partnership, which operates speed cameras across Kent and Medway, already publishes this data.
However, in common with other safety camera partnerships, it does not publish how much money is raised in fines at each individual camera site. Now it will have to.
Police forces have been told they will have to publish the number of speeding prosecutions arising from each camera in their area, along with the number of people fined and prosecuted and details of those going on speed awareness courses.
Roads safety minister Mike Penning said: "We want to improve accountability and make sure that the public are able to make informed judgements about the decisions made on their behalf.
---
Click here to read our political editor Paul's view
---
"So if taxpayers' money is being spent on speed cameras then it is right that information about their effectiveness is available to the public."
"That is why we want full details of accidents and casualties at camera sites, along with the number of offences arising from each camera, to be easily accessible.
"This will help to show what impact cameras are having on road safety and also how the police are dealing with offenders."
Campaign groups representing motorists are likely to welcome the news.
Since the Kent partnership was set up, there has been a 63 per cent reduction in the number of people killed or seriously injured at safety camera sites.
Councils and police forces will have until July 20 to publish the figures.