by Paul Hooper
Loving grandfather Ken Milburn died on his way to work... for the sake of 0.7 of a second.
The 64-year-old driver, who was looking forward to retiring, was killed in a head-on collision on the B2046 in Aylesham in November last year.
But a judge heard that had the lorry driver who caused the death crash reacted 0.7 of a second sooner, sports-loving Mr Milburn (pictured left) would have lived.
Because Bulgarian-born Tihomir Todorov had failed to see a Peugeot waiting to turn right until it was too late, he veered in front of Mr Milburn's Ford Focus coming in the opposite direction.
The lorry driver had faced the stark choice of smashing into the back of the Peugeot, swerving left and hitting the kerb or going into the path of oncoming traffic.
Judge Michael O'Sullivan told Todorov, 29, of Jacinth Drive, Kemsley, Sittingbourne: "You took the wrong option."
The lorry driver was jailed for six months and banned from driving for three years after admitting causing Mr Milburn's death by his careless driving.
After the hearing, Mr Milbrn's son Barry said: "The family has had a year of hell, but we are glad that he has been sent to prison and been banned from driving.
"If he had waked (free) today we would have been devastated. It would be like he had died for nothing."
Canterbury Crown Court heard Mr Milburn was just six months away from retiring when he set off for a half-day at work in Wootton, Dover.
"i deserve to be punished and i have taken full responsibility - i am not a bad person..." – lorry driver tihomir todorov
But his Ford Focus was struck head-on by Todorov's truck shortly after 7am and he died at the scene from his injuries.
Denzil Pugh, prosecuting, said the truck driver failed to see the Peugeot, with driver Sean Collins at the wheel, waiting to turn right 100 yards ahead.
A report from an expert said that had Todorov, who owned a "gold" driver's licence in Bulgaria, reacted 15 metres - or 0.7 seconds - sooner, he could have stopped in time.
The court heard two people in a car following the van realised the driver had failed to see the Peugeot seconds before it swerved into the opposite lane.
But the judge said: "I take the view that this was more than momentary inattention.
"The car turning right was in position to execute the turn with its indicators and brake lights on, but had to wait because of oncoming traffic.
"You should have seen the vehicle turning right much earlier - but for whatever reason your attention was elsewhere.
"When you did see that car, it was too late and you took the wrong option in driving into the oncoming lane. Your inattention was the sole cause of the death of Mr Milburn."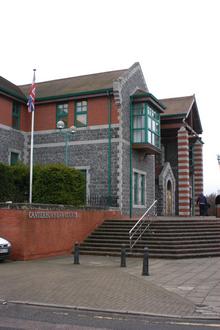 Todorov wrote a letter handed to the judge, which read: "Dear family, I am so sorry for what happened. There is not a single day which goes by without me thinking about the accident.
"This has caused great mourning for me and my family as well. I cannot and I don't think I will ever forgive myself for making that mistake that day.
"I deserve to be punished and I have taken full responsibility - I am not a bad person."
The judge told him he had also read victim impact statements from a number of Mr Milburn's family members.
He said: "He was about to retire to spend more time with his grandchildren and to enjoy the fruits of his life-long labours.
"This is tragedy upon tragedy and no sentence that this court can impose on you can take away the family's pain and loss."
But Judge O'Sullivan said he accepted there were no "aggravating circumstances" and that Todorov's remorse was genuine.
After the hearing, Mr Milburn's son Barry praised the judge for "listening to the family" and giving them justice.
He also thanked PC Jamie Woodham, who investigated the crash, and family liaison officer PC Mark Cartledge for supporting the family, who sat in the public gallery during the two-and-a-half hour hearing.
Mr Milburn added: "We are just pleased that my dad got justice. I will never forget the morning I found out, I was absolutely devastated.
"Three police officers knocked on my door to deliver the news. Life has never been the same since."