by Lauren Fruen
Meet massive moggy Judas... believed to be Britain's tallest cat.
The five-year-old stands at a huge 17 inches – eight inches taller than the average domestic cat.
And the black and white feline tips the scales at a staggering 20 pounds, which is more than double the average weight.
Judas was taken in by Faversham animal charity Happy Endings at the beginning of this year.
Workers were shocked by his size after he came to the animal rescue centre.
Cattery manager Heather Jordan said: "We have cats of all shapes and sizes, but this cat is huge. We were nervous of him at first.
"He is intimidating because he is so big. But he is as sweet as anything with other cats."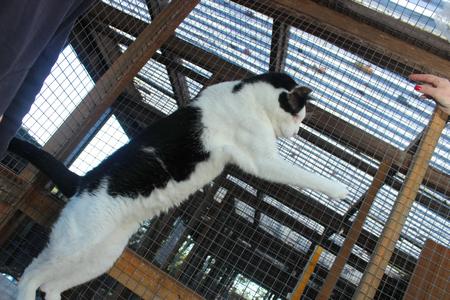 And Heather, who has worked at the cattery for 11 years, said she has never seen a cat of his size before.
She added: "I would say he is one-and-a-half times the size of a normal cat. I have never seen a cat like him.
"He is not fat, just really big. He has to be carried in the dog crate because he does not fit in the cat crate."
Judas has been with the charity for nine months after being taken into a vet.
Heather said: "They were going to put him to sleep. He was perfectly healthy, but his owner did not want him any more so we took him in here. I've never seen anything like it."
The world's tallest cat measured 19 inches from paw to shoulder.
Trouble, who hailed from Sacramento, California, died earlier this year, but was recognised by the 2013 edition of the Guinness Book of World Records as the tallest cat in the world.
He weighed 20 pounds - the same as Judas.