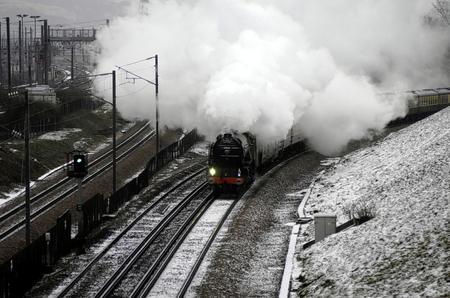 At least one train ran on time today - Monday - but it was not a Eurostar.
While modern electric trains suffered problems all day with snow and ice, steam engine Tornado streaked through the county on a special dining trip - adding insult to injury by running alongside the high speed line.
The steam-hauled Cathedrals Express even picked up some stranded passengers in London to take them home.
Marcus Roberts, chairman of charter train company Steam Dreams, said: "Snow does not affect steam trains at all.
"But it affects the power supply to electric trains.
"We were even able to take some passengers stuck in London Victoria where there was room."
The Cathedrals Express consists of 55-year-old carriages (much-loved British Railways Mark Ones) and a newly-built replica of a 1948 A1 Class Tornado engine.
On Monday it was taking tourists and enthusiasts through London, Ashford, Folkestone, Dover and Thanet on the White Cliffs Christmas Luncheon Circular Tour.
The train went full steam ahead on Monday while Eurostar had to suspend its services for the third day running and thousands of passengers were trapped on five trains in the Channel Tunnel during the weekend.
Southeastern confirmed that some of its 140mph high speed trains, which had been introduced in full on December 13, were cancelled the same day.
That morning saw no Ashford to Dover service on the standard main line service and there had been delays and cancellations on both forms of service over the weekend.
Spokesman Sarah Boundy said: "The problem occurs when ice forms on the third rail, which is the conductor rail although efforts have been made to de-ice these."
Mr Roberts said: "During the very severe winter of 1962-63 steam trains that were about to be scrapped were brought back into service to pull the carriages of electric trains.
"It shows that steam wins over electric in these conditions."
As the weather problems are set to continue, Southeastern will be operating a Saturday service tomorrow (Tuesday)