A brave mum battling cancer has proved such an inspiration she has attracted dancing stars to help in her first fundraiser.
Sara Jeffery was living a healthy and happy life when her world came crashing down.
The 35-year-old was diagnosed with a brain tumour in October last year.
The mother-of-two, from Kings Hill, has undergone radiotherapy and is now more than half way through chemotherapy.
Her determination and positive spirit has spurred partner Brian to try and make a difference.
The 39-year-old, who works in the building industry, has arranged a series of fundraising events in aid of the Samantha Dickson Brain Tumour Trust, a national cause set up for research and support following the 16-year-old's death.
Professional dancers on Strictly Come Dancing, James and Ola Jordan (Ola pictured dancing below with partner Chris Hollins), will be among the first to help.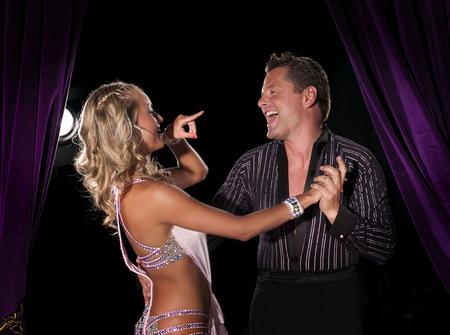 A two-hour zumbathon has been organised for Saturday, March 24, at David Lloyds in Kings Hill.
In a statement, the duo said: "Having had the absolute pleasure of meeting Brian and Sara, and becoming aware of the journey they have both been faced with, we wanted to do what we could to offer our support."

Partner Brian has been particularly moved by Sara's courage.
He said: "Sara has been incredible. She is so determined to come through this and has remained positive through it all.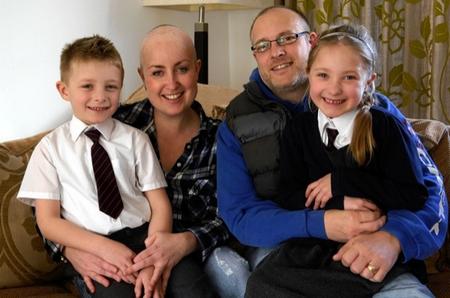 "I want to raise awareness and as much funds as possible so the trust can continue with its vital research."
The couple live in Discovery Drive with six-year-old twins Max and Megan.
The shock diagnosis only surfaced after Sara had a seizure during the night.
The tumour had been there for more than 10 years.
Sara, a lecturer in hairdressing at North West Kent College, in Dartford, said: "I woke up one morning and my life had changed completely. It's been tough but I've had amazing support from my family, especially from Brian.
"The experience has brought us closer together but also changed my outlook on life.
"As a hairdresser, it was a devastating time when I started to lose my hair but then I realised it's not the end of the world. I hope to go on and have many more happy years."
A second fundraiser is a 60-mile bike race on Sunday, March 25.
Click here to sponsor those taking part. To be involved in the zumbathon please call the gym, in Kings Hill Avenue, on 01732 222350.