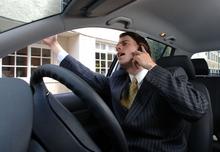 A new survey conducted by AA and Populus has revealed something many road users have suspected for a long time: drivers just don't like fellow drivers.
With 45 per cent of the 20,000 respondents pointing the blame at other drivers, such levels of dislike have relegated old favourites such as White Van Man and cyclists to a distant second and third place respectively.
For the record, White Van Man made 18% of motorists angry while 13% were most annoyed by cyclists, 6% by motorcyclists, 4% by bus drivers and only 1% by pedestrians.
Drivers in Northern Ireland and the West Midlands were most annoyed by other motorists, while professional people, those living in London and south east of England and drivers over 55 got the most angry about White Van Man.
Predictably, anger against cyclists was greatest in London and among young drivers (18-24) while those most annoyed by motorcyclists were older drivers (over-65s) and younger drivers plus those based in London and the south east.
Bus drivers were more a source of annoyance in north east England than anywhere else, with older drivers being the least concerned about buses.
Comparative tolerance towards pedestrians extended across all age ranges and areas.
Commenting on the study, AA president Edmund King said: "We really must get past this dangerous 'them and us' mentality that sours interactions between different groups (and even sub-groups) of road users.
"A tribal mentality on the roads just fosters road-rage which is not good for your blood pressure or road safety. Drivers need to remember that other road users are also human beings with equal rights to share the roads."