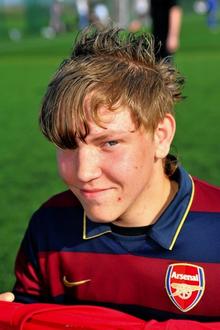 by Alan McGuinness
A teenage thug who stabbed a schoolboy with scissors on the sports field of a Sittingbourne school has been sentenced to 14 months in youth custody.
Robert Harden admitted assaulting Alex Betts, causing him actual bodily harm, in the attack seen by dozens of staff and pupils in March.
The 18-year-old, of The Trafalgar Hotel, Rushenden Road, Queenborough, also admitted assaulting his sister Anne Harden, James Whitehead and Jack Sayer.
Maidstone Crown Court today heard Harden was annoyed 17-year-old Alex was in a relationship with his sister.
He had been drinking when he went to Sittingbourne Community College, in Swanstree Avenue, where a charity football match involving staff and pupils was being played.
Andrew Espley, prosecuting, said Harden walked towards Alex and Miss Harden and said: "Oi you. I want f****** you."
He punched Alex three or four times before Miss Harden stepped in and tried to break it up, the court heard.
Her brother pushed her away and continued to attack Alex, punching him a further three or four times in the head.
He then stabbed him with a pair of scissors on the left side of his stomach, Mr Espley said.
James Whitehead tried to pull Harden away, but was punched.
Jack Sayer, who tried to help Alex, was also hit.
Eventually, a teacher grabbed the scissors from Harden and put him in a headlock. Another called 999.
Harden shouted: "The boy's a nonce, he should not be going out with my sister."
Mr Espley said Harden had numerous convictions for violence and had previously been sentenced for 12 months' detention and training for actual bodily harm.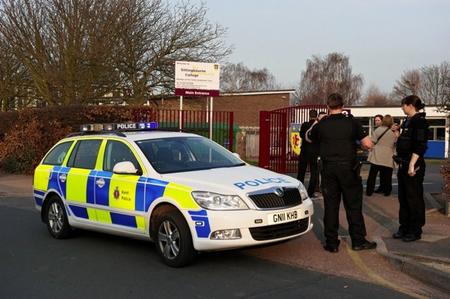 Alex Rooke, defending, said Harden had not gone to the college with the intention of confronting Alex and wanted to take his sister home.
He said: "He's sorry for what he's done and feels shame at his behaviour.
"There's an awareness that what he did was wrong."
Judge Philip Statman said: "This was a persistent and ugly attack on four individuals and in my view well and truly passes the custody threshold."
The school offered counselling to those who witnessed the stabbing at the match, which was watched by around 100 staff and pupils.
Alex, from Kemsley, was treated at Medway Maritime Hospital.
He later returned to the school for the rescheduled match and was presented with an Arsenal shirt.
Harden will serve half of his sentence, less the 28 days he has already served on remand.