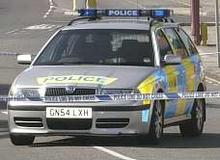 by Dan Bloom
A teenager is seriously injured in hospital after the car he was driving crashed in a police chase.
Five men, all thought to be in their late teens, were in a silver Peugeot 106 early this morning which hit a brick wall in Old Road East, Gravesend, near the Lion Tyre and Test Centre.
A police spokesman said: "Just prior to the incident, at 12.55am, officers had attempted to stop the Peugeot after it was seen driving erratically.
"The vehicle failed to stop and officers attempted to pursue the car, but the police car was damaged and unable to continue.
"Other officers then observed the Peugeot's collision with a number of other vehicles."
The car hit a black Hyundai then clipped two parked cars, a Vauxhall Corsa and a Toyota Prius, before hitting a wall.
Two of the men escaped the wreckage but the other three had to be cut free by firefighters who feared they could have spinal injuries.
The driver, aged 18, was the most seriously injured of the three and was treated at the scene by doctors from the Kent Air Ambulance.
They then took him by road to King's College Hospital, London, a specialist head injuries unit. His condition is described as stable.
The other two men cut free were taken to a local hospital.
Several police officers closed the road and at least three ambulances were on the scene.
Ian Crouch, watch manager at Thames-side Fire Station, said: "Two people had got out without our assistance. The other three had to be cut free and we got them out using spinal long boards."
Police are appealing for witnesses. Call the Serious Collision Investigation Unit on 01622 798538.