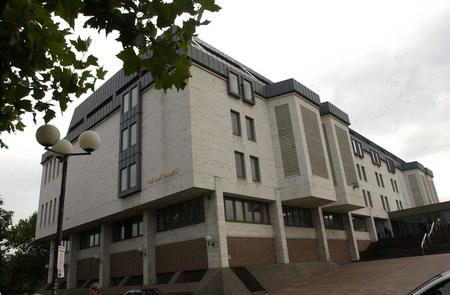 by Chris Hunter
A teenager has walked free from court after he admitted shooting his friend in the liver.
Tashan Rudland, 19, picked up an air rifle during a wild drink and drug-fuelled party at Park Road, Dartford, in November last year.
He then shot his pal Chris Goode in the side.
The diamond broker, of Canterbury Close, Dartford, admitted causing grievous bodily harm but denied intent when he appeared at Maidstone Crown Court.
Victim Mr Goode gave evidence at the hearing to determine if Rudland had fired the gun on purpose. The pellet is still lodged in his liver.
Mr Goode had been left needing lengthy hospital treatment for life-threatening injuries.
He said he had difficulty remembering everything about the incident and that vodka, ecstasy and cocaine had been flowing throughout the night.
He had decided to lie down on a bed when he became aware of Rudland with
"it was like a punch in the ribs and then i had trouble breathing..." – shooting victim chris goode
the high-powered rifle, which had been kept at the address, and remembered it being fired.
"It was surprising," said Mr Goode, who has made a full recovery. "It was like a punch in the ribs and then I had trouble breathing."
He added: "I remember being on the couch and he [Rudland] was at the front door. A lot of people were telling him to get out."
He did not realise the full extent of the damage until later, when he learned the pellet had pierced his lung and ended up in his liver, where it remains to this day after surgeons decided not to operate.
The gun was produced in court and Judge Michael Carroll was told police discovered it fired with very little pressure on the trigger.
He heard how Rudland had left school with nine GCSEs and got an NVQ from North West Kent College.
He was now working as a diamond broker in Canary Wharf.
Rudland appeared in court for a "trial of issue". He denied the intent charge.
The judge agreed there was no intent, and dismissed that charge.
He added: "I'm sentencing on the basis that this was a reckless act. There's not a drop of malice in this case, there's no animosity towards the victim and I have to say there's no evidence of animosity from the victim towards the defendant, even now."
Judge Carroll gave Rudland full credit for having pleaded guilty to causing GBH at the earliest opportunity.
He was sentenced to 12 months in a young offenders' institution - suspended for two years - and ordered to do 200 hours of unpaid work and pay compensation of £1,000.
He ordered the gun should be forfeited to police.