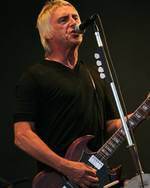 Rock icon Roger Daltrey made a surprise guest appearance at the Hop Farm Festival in Paddock Wood on Sunday.
Just as Paul Weller's set was drawing to a conclusion, Daltrey sauntered on stage and the duo launched into a performance of Magic Bus, one of the The Who's best known hits from 1968.
The track included a harmonica performance from Daltrey - who lives near Tunbridge Wells - with Weller singing backing vocals.
Weller was the headline act of the festival, playing a one-and-a-half hour set, finishing with A Town Called Malice from his days with The Jam.
Other performances on Sunday included Editors, Doves and Super Furry Animals, with The Fratellis headlining the Saturday bill, which also included Echo and the Bunnymen and Ash.
Several thousand people attended the festival at the Hop Farm, which is now in its second year.
Organised by Vince Power, who helps organise the Glastonbury and Reading festivals, the Hop Farm event was deliberately non-branded and had no VIP areas.
For more pictures from the festival, pick up a copy of Friday's Kent Messenger.
The picture on this page was sent to us by Paddy Brownlee. Email your pictures to messengernews@thekmgroup.co.uk