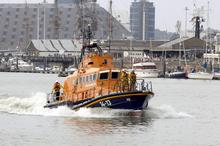 Three men had to be rescued from their boat in the Thames Estuary yesterday after its engine exploded.
One of the trio – who were all in their 30s – suffered minor burns to one of his arms while another was in shock. They managed to extinguish the small fire the explosion caused.
They were on board a 24ft motorboat called "The Bends" between Sheerness sea front and the wreck of the SS Richard Montgomery, close to the Isle of Grain, just before 3pm when the incident happened.
An all weather lifeboat from Sheerness was dispatched just after 3pm and took the men on board.
An RAF rescue helicopter arrived shortly afterwards and a winchman checked the injured men over.
Coastguard and ambulance crews met the lifeboat with the men at Queenborough at 4:42pm.