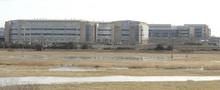 by Peter Barnett
Traffic congestion outside one of Kent's biggest employers should be a thing of the past after an £87m road scheme was given the green light.
The second phase of the East Kent access road scheme was given the final go ahead by the Government on Tuesday, to link the road at pharmaceutical firm Pfizer with the Thanet Way.
It will join up the first part of the route at the village of Ebbsfleet, Thanet, to the Prospect roundabout at the edge of Kent International Airport at Minster ,and the Lord of the Manor roundabout at Ramsgate. It will also complete the link between the A299 and Port of Ramsgate.
South Thanet MP Steve Ladyman has welcomed the announcement. He said: "This is one of the key transport improvements in my constituency that I have been campaigning for since I first became involved in public life in South Thanet back in the early 1990s.
"We already have phase one of this road scheme completed and the final section of this piece of the jigsaw puzzle can now get underway.
"The Government has agreed to fund £81.25m of the estimated £87.443m cost. They have also agreed an extra £850,000 towards the schemes preparatory costs.
"I am grateful that Kent Council made this scheme one of their priorities but I hope that they are grateful that without the Government agreeing to fund the lions share of the cost it would have been impossible to complete."
Work is expected to start in October, with completion expected in 2012.
For more business news see Kent Business.