by Gerry Warren
gwarren@thekmgroup.co.uk
A medieval silver gilt ring found in a farmer's field at Bishopsbourne has been declared treasure.
James Goldswain made the discovery a few inches below the soil in a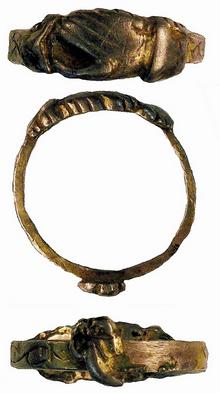 ploughed field while metal detecting.

The piece, known as a 'fede' or faith ring, dates from the 14th or 15th century and features a pair of clasped hands and would have been worn as a love token.
Mr Goldswain, from Newlands, Whitfield near Dover, took the ring to Dover Museum shortly after finding it in February this year and it was referred to the county's archaeological finds liaison officer (AFLO) who adminsters the Portable Antiquities Scheme in Kent.

He said: "I have heard of them but never actually seen one so it was a nice surprise. But I have no idea what it's worth."

On Thursday, the North Kent coroner Rebecca Cobb considered a report from the AFLO and concluded it should be classified as treasure under the Treasure Act 1996.

It covers any metallic object found which is more than 300 years old and contains at least 10 per cent precious metal.

After the hearing AFLO Jen Jackson said: "They are not uncommon and a few turn up in the county every year.

"I cannot say what it's value is. That will be determined by a valuation committee at the British Museum.

"It will then be offered to a museum, perhaps in Canterbury, who will decide whether they want it or can afford it.
"If they can, the money will be divided between the finder and landowner. If not, the ring will be returned to them."