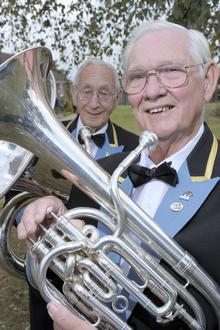 by Lewis Dyson
Tributes have been paid to a musician who is thought to have suffered a heart attack while driving.
Residents rushed to help Terry Long after his car crashed into two others in New Road, Minster, on Monday evening.
They started CPR before the arrival of emergency services workers, who also tried to resuscitate him, but the 73-year-old died at the scene.
Mr Long, of nearby Prince Charles Avenue, was known for his work in bands on the Island and as a fundraiser for the Salvation Army.
Close friend Stan Partner MBE (pictured to the left of the picture above, with Mr Long) was a fellow member of The Snowdown Colliery Welfare Brass Band.
The 81-year-old said: "He was such a cracking bloke. We were together for 40 years and we never had words.
"He played with the band and a couple of years ago we won the Southern Counties Championship out of 27 other bands. He was a dear old friend."
Mr Long played the baritone euphonium and, along with Mr Partner, taught prisoners at open prison Standford Hill.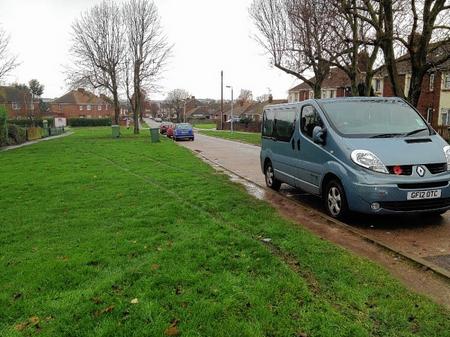 Police, paramedics and firefighters were called to the accident between the junctions of Bramston Road and Copland Avenue at 5.20pm.
Mr Long's blue Ford Fiesta hit the back of Edward Wilson's Kia Sportage, which hit Mark Cox's blue Renault Trafic.
Mr Cox, 37, of New Road, said: "My son heard a noise, he looked out the window and said 'Dad, I think something just hit your car because your air freshener in the window is moving,' which made me go out there and have a look.
"There was only one person in one of the cars so I opened the door, turned the engine off, shouted out for my wife to phone the emergency services."
The father-of-four performed CPR and was joined by Mr Wilson, who took instructions over the phone.
The road remained closed for about two hours while officers investigated.
Witnesses to the collision can call police on 01622 798538.