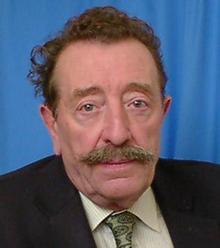 Leaked emails have revealed the leader of Tunbridge Wells council's true opinion of his constituents - branding them "the natives".
Conservative Councillor Roy Bullock MBE spoke of "keeping the natives happy" when referring to the public.
He also described his Tory colleagues who disagree with him as "the enemy within".
The emails sent to council officers and his cabinet colleagues reveal how Cllr Bullock proposes to deal with a council debate forced on his administation.
It comes after the council received a petition signed by 3,200 members of the public opposing his plans for a major regeneration of the town centre, which could include the loss of both the Town Hall and the Assembly Hall.
In an email dated 24 October, Cllr Bullock said: "We have to control the agenda on the day, which should be in our gift anyway.
"I would suggest that when the petition organiser has their three minutes then I would arrange for myself to be called to answer.
"During that speech it is important that we set the ground for the debate and to that end I would propose a motion.
"What is wanted is an all-embracing motion that makes if difficult for all our members to vote against and puts the opposition in a bad light if they vote against it."
Cllr Bullock went on to predict "a highly politically-charged meeting - not only will we have (David) Neve (Lib Dem leader) and co but also the enemy within".
Later, in a reference to the last council debate on the subject when the council locked around 70 members of the public outside the Town Hall once the spectators gallery was full, Cllr Bullock suggests webcasting the meeting "to keep the natives happy".
The widely circulated emails have caused outrage among voters.
Don Rogers from Cranbrook, said: "Cllr Bullock has shown his utter contempt for the people of Tunbridge Wells - the 'natives' who have dared to stand overwhelmingly in the way of his scheme to hand their listed town hall and theatre to a property developer."
Cllr Sean Holden, who represents Cranbrook and Sissinghurst, has been a long opponent of Cllr Bulllock's property development scheme and is believed to be one of those regarded by the Tory leader as "the enemy within".
Cllr Holden (Con) said: "What upsets me most is that not once in these emails does Cllr Bullock consider the possibility of listening to the views of the people or even considering that they may have a valid point.
"He is only concerned with stifling the debate."
The debate which Cllr Bullock is concerned to control is scheduled to take place at the Town Hall on Tuesday. The public will be able to ask questions from 6pm, with the debate proper beginning at 6.30pm.