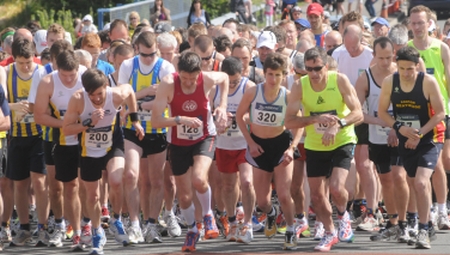 This time last year the Deal Half-Marathon was cancelled at short notice due to snow. There were no such problems on Sunday as 400 athletes competed from Fowlmead Country Park.
Daniel Watt (Tunbridge Wells Harriers) was first home in 1hr16min22sec with half a mile to spare over M40 Anthony Forsyth (Ashford, 1:19.56) and Kris Noble (1:20.15) of Sittingbourne Striders.
The next six finishers were all M40 master athletes. Gavin Kitchingham (1:20.51, Orpington) was followed by Aaron Hughes (1:22.02, Maidstone Harriers), Ashley Howes (1:22.06, Larkfield), Craig Chapman (1:22.39, Tunbridge Wells), Neil Hacon (1:24.34, Sittingbourne) and James Absolon(1:25.08, Tunbridge Wells).
Bob Fursey (1:30.11) and Adrian Moody (1:30.31) of Medway and Maidstone led M50s and Trevor Edgely (1:31.36) of Istead and Ifield bossed the M60s.
Faye Roberts (1:30.10, Canterbury Harriers) won the women's race under pressure from visitors Clare Mullenger (1:30.20, Wimbledon) and Elspeth Storrar (1:31.32, London Heathside).
W40s Sarah Maguire (1:34.32, Canterbury) and Julie Stoppani (1:36.55, Maidstone Harriers) were next and W50 Barbara Wenman (1:37.47, Canterbury) was sixth overall.