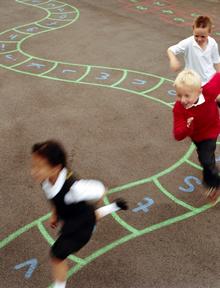 with Drivetime DJ Andy Walker.
Do you remember the rhymes you would chant on the school playground? I was randomly thinking about this the other week.
"Ip dip do, the cats got the flu, the dogs got the chickenpox and out goes you," was a classic for deciding which of your mates would be on your football or netball team.
Imagine if important decisions in life were made with that rhyme. Perhaps they should be. "Ip dip do" could decide our next Prime Minister, which car to buy or which girl you should take out on a date this weekend.
Back to the playground, there was the obvious rhyme you would chant at the two people you found out liked each other.
"Susie and Adam sitting in a tree, K-I-S-S-I-N-G. First comes love, then comes marriage, then comes the baby in a baby carriage."
If skipping was your thing at infant school, you will remember the game, Help. There was one jump for each letter. The ropes would spin faster and faster until the jumper missed a letter. That would provide hours of fun.
The rhyme I could never get the hang of was "Peter Piper."
"Peter Piper picked a peck of pickled peppers."
It has been some years since I was a school – stop sniggering at the back – so I don't know what is being chanted in playgrounds today. If playground rhymes have ceased, what is in their place? Is Kiss Chase still active? The only game that was OK to play as a child but never as an adult. Shame really.
Once you went up a few years at school, Kiss Chase was replaced with Man Hunt. One of the most competitive games during playtime, it involved having jumpers for goalposts. Man Hunt saw one person stand at a 'base' – something like a post while a group of friends would run off and hide. Your mission was to make your way back to base without being tagged by the friend hunting you. I used to love this game and it would last right up until the school bell rang to signal the end of lunchtime.
Just reminiscing about these games makes me want to set up an adult version. If there are any head teachers reading this who wants to open up their school playground after the children have gone home, I would be interested. Adult Man Hunt! Who's in?
I'll speak to you on your way home from 4pm.