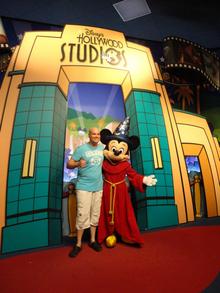 with Drivetime DJ Andy Walker
I am always conscious not to harp on too much about having been on holiday.
I appreciate that whilst I may have been in the Florida sunshine, Kent has been under a grey cloud and the winter coats are being worn.
Having said this, have you been to Disney World? I wanted to explain how huge it really is and give some tips for those thinking about going in the future.
Everyone I have asked always says the same thing – "it's massive. You'll never do it all in one day". It seems to be the standard answer.
As true as this is, it is also massively unhelpful. What you actually need to know are the times and days to visit particular parks, so they are not too busy. Another handy piece of advice which the 'it's-so-big' clan could try bestowing upon us mere mortals would be to explain which rides are at which parks.
So to avoid boasting too much, I would like to deliver some helpful guidance.
Must-dos are the fireworks at Magic Kingdom plus both day and night shows at Sea World to watch the incredible killer whales performing.
This is just skimming the surface, so my advice is to ask someone you know who has been – everyone knows someone – and ask them these questions, plus more. It will benefit you so much. You need more information than "it's so big".
Disney has its own dual carriageway systems – it is that big. It is probably the size of Maidstone, I kid you not.
I have returned to find some superb music added to the kmfm playlist. After 10 years away, Girls Aloud are back with a big new single.
Called Something New it will be on the girls' forthcoming greatest hits album and is produced by Kent producers and long time Girls Aloud collaborators, Xenomania.
Christina Aguilera is giving us a new song called Your Body. It sounds a little like Nicole Scherzinger in parts, but Aguilera's famous voice warbling makes it her own. Your Body is a raunchy and fresh sounding.
Maroon 5's hit making skills have always been there, but since Moves Like Jagger, everything seems to have got bigger. Lead singer Adam Levine has one of the most distinctive voices in pop rock and new single One More Night is easily identifiable as being a Maroon 5 tune. The song is about not getting on with a friend's new girlfriend and hoping that he will only be with her for one more night.
Speak to you on your way home on kmfm Drivetime from 4pm.