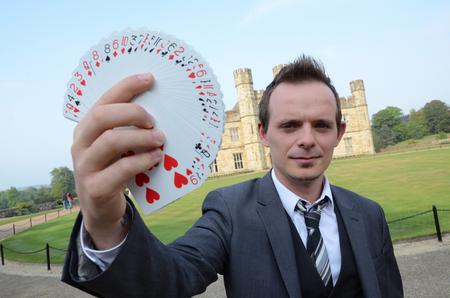 A TV magician who regularly performs for celebrities has avoided jail despite sending naked pictures to a 15-year-old girl - and saying he would rape her.
Creepy Richard Bellars, 31, also sent sexual texts to the girl, including one where he said: "I will hold you down and rape you."
In another, the magic man, who appeared on Jonathan Ross's Fool Us show, sent a picture of him performing a sex act.
Father-of-one Bellars, who performed on the last series of Britain's Got Talent, committed the crimes during a 100-hour magic show in Kent.
Bellars pleaded guilty to sending the pictures and causing an underage girl to engage in sexual activity at a hearing at Sevenoakes Magistrate's Court after handing himself into police over the text messages.
"it's never happened before and it will never happen again. i'm the same man you've always known and i made a stupid mistake..." – magician richard bellars
He had been warned his crimes were so serious he could face jail, but he has escaped with a three-year community order.
Sentencing him, magistrate Gary Knight said the situation had "escalated in a very short period".
The court also imposed a sexual offenders' prevention order that restricts Bellars coming into contact with children unless their parents know of his convictions.
Pervy Bellars swapped contact details with two 15-year-old girls during his marathon magic act, at a fundraiser in Southborough, in May.
One of the girls and Bellars became friends on Facebook and were soon chatting on Skype.
Days later, unprompted, the girl texted a topless picture of herself. Bellars deleted it, but then asked her to re-send it.
He then sent her a picture of himself in the bath and several of him performing a sex act as well as the text suggesting rape.
During an earlier hearing, Brian Ferris, defending, told the court the girl had texted Bellars "something like, 'we'd better get our story straight'," after she discussed a "hypothetical situation" with a police office who gave a talk at her school.
Instead, Bellars walked into Tonbridge police station, and admitted sending the texts and pictures.
Bellars famously managed to fool Penn and Teller, on Jonathan Ross's ITV Fool Us show, with a mind trick where he successfully predicted the outcomes of various tasks.
Following his sentence, Bellars said: "To everybody that I know, whether a friend or a supporter of my magic career, I just want to say I'm truly sorry for my actions and for letting you down.
"It's never happened before and it will never happen again.
"I'm the same man you've always known and I made a stupid mistake."