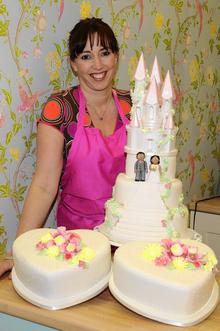 by Samantha Williams
A cake maker who has been left £400 out of pocket after a bride abandoned the extravagant wedding cake she ordered has decided to auction it for charity.
Amanda Bishop, who owns the Amanda Bishop Cakes shop in Lathe Barn, Burmarsh, made a three-tier dummy cake with a castle on top plus three separate 10-inch heart shaped fruit cakes decorated with edible handmade flowers for a bride in Durban, South Africa.
The wedding was supposed to take place in August but three months on, Amanda still has the large cake.
The mother-of-one, from Lympne, who opened her shop earlier this year, said: "At the time, I advised the customer that it would be cheaper to have the cake made there, and that she didn't need such a big one, but she wanted a cake that was bigger than any of her friends'.
"The total for the cake was £450 and the bride gave me a £50 deposit but she then missed payment deadlines and pick-up dates. I finally got a text saying 'Sorry I can't afford the cake'.
"I think I have a great job, being a small part of people's special days, and haven't been let down by a customer in two years – until now."
Amanda, who worked for British Airways Cabin Crew for 13 years before opening her cake shop, has already sold one of the heart-shaped fruit cakes to Cindy Reader, who is getting married next month.
Miss Reader said: "I wanted Amanda to make my wedding cake for my wedding next month, but I didn't have the funds available with all the other costs, so when I heard about what had happened I approached her again and she asked me to make an offer."
The two cakes still available are big enough to feed 170 people.
Amanda: "They really need to be eaten within the next month or so. I suppose the way to look at it is that from this one cake, a few people will now benefit. I would like to see the cake go to someone who will appreciate it."
Amanda is now inviting people to bid for the two remaining fruit cakes and will donate the money to the Folkestone Churches Winter Shelter, based in Sandgate Road, which cares for homeless people.
To bid for the fruit cakes email your price to amandabishopcakes@hotmail.co.uk before Monday, December 3.