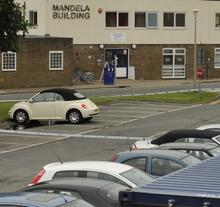 by Jenni Horn
Students will have to pay the top rate - £9,000 a year - to attend the University of Kent from 2012.
The university announced the rise in tuition fees for UK and EU undergraduates today.
A spokesman for the institution said this level of fee will allow it to honour its commitment to deliver high quality teaching into the future and to continue to provide first-rate facilities on all its campuses.
He added: "Students at Kent are taught by world-class academics and the fee level will allow for continued investment in high-quality staff, essential to the provision of an excellent academic experience.
"Furthermore, the £9k fee will enable the University to run sustainably through the period of transition from April 2011, when the cuts in both revenue and capital budget start to take effect, until 2014 when it will see most of its undergraduates coming under the new system."
Ed Atkins, 20, a third year history student at UKC from Tunbridge Wells, said: "I know a lot of people will say why should current students care as we don't have to pay the increased fee.
"But my little brother is 16, will be looking to go to university in two years. Why should he pay three times the amount that I do?
"A lot of other students have younger siblings as well, so it does become slightly personal. But at its core its just not fair."
He said the move would be seen as a mistake: limiting the type of student the university attracts.
Ed added: "It's virtually ruling out University as an option for a huge amount of people.
"Obviously they have had their budget slashed by 80 per cent, but I think this is also an attempt to put themselves up there with the Oxbridges of the world.
"By charging the full amount, they are attempting to put themselves in a prestige bracket, even if every other university follows suit."
The university is planning to set up a package of fee waivers, bursaries and scholarships to help students from a range of backgrounds complete their degrees.
It will also be enhancing its support for schools and colleges in the region.
The fee level is subject to the approval of the University's proposed access and widening participation arrangements by the Office for Fair Access (OFFA).