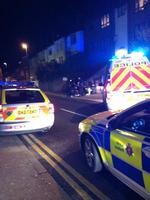 A police officer who was struck by a car in a routine check has been has been discharged from hospital.
A manhunt was launched after the incident at 6.50pm yesterday (see left, photo: @carl_burton).
The officer was hit after getting out of his car and carrying out the routine stop on the vehicle in Luton Road, Chatham.
This then drove off and was later found abandoned in Constitution Road.
The police helicopter was scrambled to help trace the driver, and the officer was taken to hospital to have his injuries assessed. He was discharged last night.
The suspect has not been located and enquiries continue.