by Lauren Fruen
Comedian Joan Rivers very nearly found herself in deep water on a fishing trip in Faversham - after being mistaken for an illegal immigrant.
After it was revealed the A-list star spent a weekend in the town filming her latest reality show, it has now emerged she was almost arrested during her stay.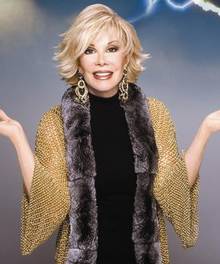 Joan, pictured left, was visiting her close friend The Countess Sondes of Lees Court Estate when they were questioned by the UK Border Agency.
The agency had received a tip-off regarding a suspicious group of people on two fishing trawlers at Harty Ferry.
Border agency staff went to the site - a well-known spot for illegal immigrants - but instead found Joan, her daughter Melissa and a film crew as they recorded an episode of Joan and Melissa, Joan Knows Best! for US television.
Funnywoman Joan said: "Even though we were innocent I am so sorry they didn't arrest us.
"I love Englishmen and they were very cute!"
The American spent the day at the Lees Court Estate, in Badlesmere, and Sheldwich and went fishing with local fisherman Bluey Walpole.
Lady Sondes said: "Given the Lees Court Estate's close involvement with the Swale, it was a great comfort to know that the Border Agency acted in a pro-active, efficient and friendly manner."