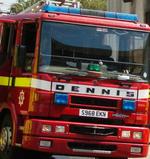 by Thom Morris
An unlikely series of events led to a blaze that destroyed half a kitchen.
A vacuum cleaner toppled over in a kitchen at a home in Eagles Road, Greenhithe.
It fell onto the switch of an electric oven - which turned on and began heating up.
The homeowners, who were out at the time, returned to find their house filled with smoke, at just before 3.30pm yesterday.
Two fire crews quickly got the flames under control before cutting away parts of the kitchen cupboards to check if the fire had spread.
Dartford fire station watch manager Dave Boakes said: "The fire had been smouldering for some time before we were alerted. The heat had cracked window panes and melted the cupboard fronts. The whole property was filled with thick black smoke.
"This highlights how easily a fire can break out. My advice to residents is to ensure cookers and other appliances are always switched off after use and never store items around ovens and hobs.
"It is essential that you have working smoke alarms fitted in your home as they provide an early warning of fire."
The fire also caused heavy smoke damage throughout the house.