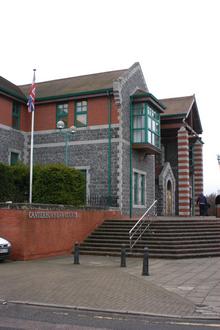 A Ramsgate transport boss today stormed out of a criminal court - after watching a neighbour who raided his home avoid prison.
Furious Kevin Ingram had expected thief Simon Forty to be jailed for a series of burglaries in Thanet.
Instead father-of-one Forty, 26, was given a suspended sentence after claiming he took £12,000 of jewellery and electrical items because his son was ill.
Coach operator Kevin, of St James Avenue, branded the sentence by Judge Heather Norton at Canterbury Crown Court "a joke".
He said: "My wife Angela and I have followed this case all the way from the magistrates' court.
"We came here today to see him being sent to prison for his despicable burglaries. Instead he has been let off."
It was in January when Forty, of Hurst Grove, smashed his way into the couple's home - ransacking it and stealing £6,500 of jewellery plus electrical goods.
He also swiped sentimental items from the hard-working couple, including a St Christopher necklace and cufflinks.
Angela said: "I had been ill the previous week and I had gone back to work that day but came home early because I still wasn't feeling well.
"I went around the back and saw someone had smashed their way in. It was just awful.
"Now I am frightened to be there by myself and we have installed CCTV cameras, padlocks and new burglar alarms.
"But we can see this man's home from our house and every day he walks passed our house smiling at us - he is going to be laughing at us now."
"every day he walks passed our house smiling at us - he is going to be laughing at us now…" – victim kevin ingram
Kevin said that when he realised Forty was not going straight to prison he was so angry he walked out of court.
"I knew that if I stayed I would have said something to the judge and would have been held in contempt," he said.
"Sometimes judges don't realise just what burglars do to people's lives - they ruin them... I can't sleep properly now.
"And it wasn't just us that he attacked... this man ruined other people's lives, too."
Another of Forty's victims described his actions as "mindless, selfish and done by someone without a conscience or feeling for others".
He admitted burglary and asked for four more offences to be considered.
Forty was given a 12 month prison sentence, suspended for 18 months, and ordered to do 150 hours of unpaid work.