Rhinos with a royal seal of approval have been sent from Kent to Tanzania to be released into the wild.
They are now safely at the Mkomazi reserve after a remarkable journey from Port Lympne Wild Animal Park.
Earlier this year, Prince William visited the park near Hythe, met one of the rhinos, Zawadi, and even hand-fed her.
Now you can see the amazing footage above of Grumeti, Monduli and Zawati - part of an incredibly endangered species - as they start their journey to freedom.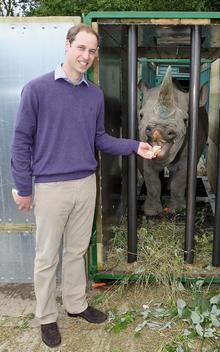 Damian Aspinall, of the Aspinall Foundation which spearheaded the move, said: "The idea that we should just breed these animals and keep them in zoos and wild animal parks for the rest of their lives, makes no sense to me – to breed these animals in captivity the end game has to be to return them home."

The move was a bold one given the stark threat of poaching.
With a wild population thought to number fewer than 800 individuals, Eastern black rhino are the rarest of the three remaining rhino subspecies in Africa.
The Aspinall Foundation has successfully carried out similar reintroductions and is confident the heavily-guarded reserve will be the perfect place for the three rhino.

The group, now enjoying the African climate, were subject to weeks of patient training by keepers.
As part of this preparation the rhinos' diets were gradually changed and the rhino also spent time on the African Experience, a 140-acre site at the wild animal park, where they mixed with other African wildlife such as zebra, giraffe and wildebeest.

For more information on the conservation work of The Aspinall Foundation please visit www.aspinallfoundation.org