A school's decision to confiscate non-uniform coats from pupils - despite freezing temperatures - has sparked a frenzy of comments on this site.
We've been inundated with your views on Aylesford School Sports College's move to take dozens of non-regulation coats from their pupils, and it seems to have split opinion.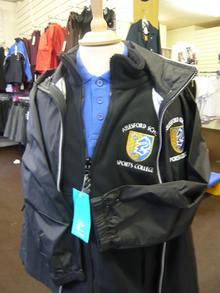 One student at the school was enraged by the decision: "The school did say that they were going to be more strict on the coat rules, but at this current recession who wants to spend £30 on their rubbish school coats that are supposedly waterproof but aren't?
Also, scarves were being taken as well and the school doesn't even supply scarves so, sorry if we want to be warm and sorry if we want to prevent ourselves from illnesses."

While another pupil agreed the coats are not adequate: "The school uniform coats are like wearing a bin liner, with either a very thin lining of fleece material or a fly net-type lining.
I always used to wear the uniform but now it's getting so cold I cannot actually come to school in their uniform. If they made a suitable school uniform coat that actually keeps you warm, I would be more than happy to wear it."
---
For the original school uniform story - and for more comments - click here. To add your comment, go to the 'make a comment' tab below and join the debate.
---
The majority of parents seem to have sided with the pupils. One mum said she can't see the problem with non-regulation coats: "Both my daughters had their coats confiscated even though they were not wearing them when they walked onto school grounds, they both spent the day freezing. Although I agree with a school uniform surely a plain black coat is not a problem?"

Another parent, Danyele Langridge, added: "The school and whoever makes these silly rules are being pathetic, as long as the children take their coats off for lessons who cares what coat it is as long as they are warm and they are learning, which is the whole point of them being at school."

But some people have defended the school's decision. One pupil wrote: "This is so stupid. If they do not like the school uniform policy then find a different school. I have been at this school for four-and-a-half years, and I haven't had a problem with the uniform. Parents are just arrogant: pupils can wear their coats too and from school they just have to take them off when in school, but the pupils are more worried about their appearance than their education."
While one parent said: "When was the last time you saw a Royal Mail member of staff wearing their own coats on their rounds? Rules are rules. The letter the school sent home was clear about what would happen.
"The coats are acceptable, they are as warm and shower proof as most coats kids wear. Let's hope these parents get the standard fine for truancy."

Head teacher Doug Lawson has defended the decision to confiscate non-uniform coats. He said: "We told pupils about the uniform policy and 32 coats were confiscated, but only until the end of the day.

"The majority of parents are very supportive of our standards and policy on uniform and we have been able to arrange grants for those who have problems affording the uniform,

"Many who had coats taken away have been doing the full range of school activities and we have modern, warm buildings."