Hundreds of mourners have turned out to pay their respects at the funeral of Swanley man Sapper Mark Smith.
Scores of family members, friends and servicemen turned out at St Martin of Tours church in Eynsford.
Many more - some complete strangers - lined the streets and listened to a PA system relaying the funeral to outside the church.
Many wore bright colours to mark the"larger than life" soldier's life - and a guard of honour was laid on.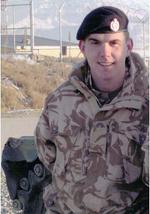 The 26-year-old Kent bomb hunter was killed in a "friendly fire" blast in Afghanistan.
He had been serving with the Counter-IED Task Force in the Sangin area of Helmand province.
The team was conducting a bomb clearance when a smoke screen was requested to enable their movement.
It's believed one of the smoke shells fired may have fallen short of its target, tragically killing Sapper Smith.
Did you know Mark? Pay your tribute to him in the comment box below.