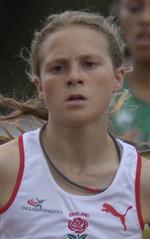 The reputations of teenage sisters Bobby and Alex Clay continue to grow after the Wingham pair led the way in the Virgin London Mini Marathon on Sunday.
The 5km race – on a course stretching from Old Billingsgate to the finish on The Mall – was the UK road running championship for youngsters aged 11-17.
The Invicta East Kent AC duo joined Rebecca Howard and Harriet Preedy in the South East England team which was chosen through good finishes in the county and district cross-country and road races.
Bobby Clay (pictured top) was at the front of the leading pack from the off and, with 600m to go, pushed forward to win in 16.23. She was two seconds clear of UK cross-country champion and defending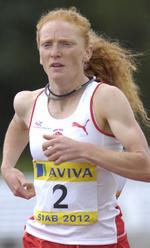 champion Annabel Mason with Bronwen Owen another two seconds back in third. Alex Clay, 17, (pictured below) was fourth in 16.29.
Bobby, who is not 16 until May, received her trophy from Prince Harry while both girls received bronze medals as South East England finished third in the team event.
Bobby Clay said: "I have done the mini marathon for five years now and this was my first win.
"I was pleased this year, as last year I led much of the race until I was over taken by Annabel Mason.
"I don't do much road racing as I focus on the track in the summer and
cross-country in the winter but I enjoy the experience.
"Receiving my trophy from Prince Harry was fantastic. I came away from the presentation buzzing and couldn't wait to tell everyone that I had just met Prince Harry."
The sisters' coach Peter Mullervy said: "They keep going from strength to strength. The better they get, the more confident they get."