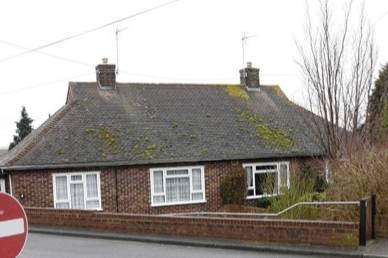 EXCLUSIVE
by Lynn Cox
A woman aged 90 died after allegedly going undiscovered for up to a week while seriously injured in her sheltered housing bungalow.
Hilda Millar is understood to have fallen at her warden-patrolled home in Greenfield Close, Wainscott.
Support workers are supposed to check on residents at the mhs homes complex three times a week.
But Mrs Millar is said to have gone unchecked until she was found by her son in a serious condition.
An ambulance was called, but Mrs Millar died in hospital a day later.
Her son is now understood to have made an official complaint to the coroner about the alleged lack of care she received.
Housing association mhs homes said it is "very concerned" about the incident and has launched a review.
Mrs Millar's death has sent shockwaves through the estate.
One woman said: "We've had people from mhs around almost every day since it happened - we hardly ever saw them before.
"I didn't know her, but understand she was not found for quite a few days. It's caused a bit of a stir round here."
Mrs Millar was last seen by her son on December 27. But seven days later, on January 3, he called at her home to discover her seriously injured and she died later.
A Mid Kent and Medway coroners office spokesman confirmed an inquest into her death is due to be held later.
The Greenfield Close complex has not had an on-site manager for several years.
But it is supposed to be monitored by mhs homes support officers, who work from 8.30am to 4.30pm, Monday to Friday.
The housing association's website says they carry out "head checks" on Mondays, Wednesdays and Fridays to check on the wellbeing of residents.
Each bungalow has a 24-hour life-line service, which residents can activate by pulling a cord.
mhs homes operations director Caroline Proverbs said: "We are very concerned about the circumstances surrounding the sad death of Mrs Millar and we convey our sincere condolences to her family and friends.
"We have been advised by the coroner that they will be holding an inquest and we are therefore not in a position to make any further comments at this stage.
"As you would expect in a situation like this we have carried out a review of our service to ensure it continues to meet the needs of our residents."
Medway Police has been told about the incident, but said it is not investigating.
Did you know Hilda Millar? Leave your comments below.