Pictures of a wetsuit and the body of a man who jumped from Dover cliffs have been published for the first time in a bid to let families identify dead relatives.
Two-dozen people missing from Kent are listed on the Missing Persons Bureau website - some of whom went missing as far back as the 1970s.
Now the police organisation has added pictures of unidentified bodies and their possessions to help identity the mystery individuals.
The new website features pictures of bodies, but images deemed distressing are marked with a warning - and readers need to confirm they want to view them.
One picture shows the wetsuit of a dead diver believed to have been in the Channel for several months.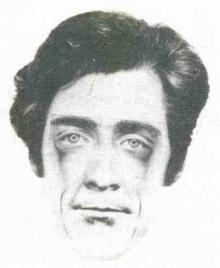 The male diver was recovered by a passing ship and brought ashore at Dover on October 3, 1992.
His body was so badly decomposed that investigators could only put his age at between 16 and 60.
The diver was wearing a black wetsuit (pictured top) with black and cream flippers.
He was described as white, of medium build and between 5ft 5in and 5ft 8in.
Another picture - which KentOnline has decided not to publish - shows the body of a man found at the bottom of Shakespeare Cliffs in Dover on October 7, 1980.
A sketch of what he looked like (pictured left) is also published in a bid to identify him.
The white man, believed to be 30 to 45, was 6ft 6in and described as thin.
He had dark brown hair, was clean shaven and had a distinguishing mark on his finger. Nicotine-stained fingers suggested he was a smoker.
The man wore a beige zip-up jacket, v-neck jumper, grey trousers and a brown belt.
The Missing Persons Bureau website, part of the Serious Organised Crime Agency, allows the families of missing people to search for their loves ones.
People are able to search the site, which will also be used to trace living people, and details passed to the police.