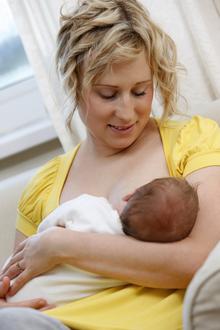 by Lynn Cox
A coffee shop has said sorry after asking a mother to breastfeed her baby in the toilet.
Hundreds of complaints were posted on Facebook following the incident at the Rochester Coffee Company this week.
The High Street cafe was even removed from the Medway breastfeeding network and Medway Council list of breastfeeding-friendly establishments.
The company later posted a message saying it offered a "full and frank apology" to the mother.
And manager Stephen Ruffle said as a gesture of goodwill, 50p from every cup of coffee sold next week will be donated to a breast cancer charity.
Outraged Nic Hughes wrote on Facebook: "I will never use your coffee shop, & neither will anybody I know due to the breastfeeding woman who was banished to the toilet! Disgusting!"
Many other people left similar comments, saying it is natural for women to breastfeed their babies. Even people as far away as Australia had their say.
The list of breastfeeding-friendly venues is compiled by mums in Medway and on Wednesday, Ma Needles posted a link via Facebook to the list - saying it had been updated with a list of venues for family looking for a new place to frequent.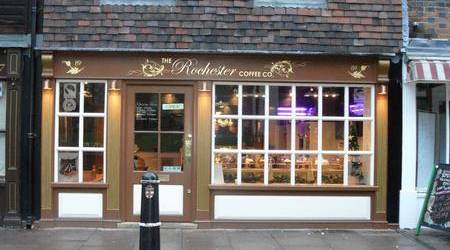 However, Sally Bennett, who lives in Medway and is a voluntary breastfeeding counsellor for the Association of Breastfeeding Mothers, said this type of incident is rare.
Sally, a mother of three, said: "I have breastfed in the coffee shop and have never had a problem. I've seen other mothers breastfeed in there as well, perhaps a staff member just got into a bit of a tizz.
"I wouldn't want this incident to put off new mums who are breastfeeding. I would not want them to be afraid to do it as there are many breastfeeding friendly places out there."
Rochester Coffee Company has now offered a full apology to the mother concerned.
It has since removed the hundreds of negative comments originally posted on its Facebook page, but left its own statement.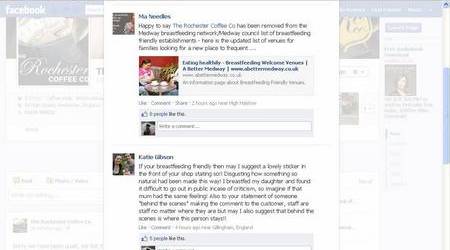 It is understood staff at the coffee shop received complaints from other customers about the mum who was breastfeeding.
Helen Treacy said on Facebook: "As I understand it, the mother was asked to move 'because there had been complaints': she wasn't asking for a quieter area and was happy to feed where she was until your member of staff asked her not to."
Suze Cooper, who is a peer supporter for the Medway Breastfeeding Network, said: "It is natural to breastfeed babies and the mum was doing just that.
"It is a normal thing to do and I would support and encourage feeding mums to do it in public, so people can be educated about it."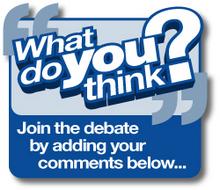 Rochester Coffee Company's statement on Facebook said: "Sorry we have been quiet, we felt it right to investigate the happenings fully before we add comment.
"We have always been a breastfeeding friendly company and offer a full and frank apology to the mother who was affected by a moment of lapsed judgement by our management.
"We have reminded all our colleagues of our policies and will ensure this never happens again in the future.
"We have firmly reminded all our colleagues that all are welcome in our coffee house and welcome breastfeeding mothers.
"The suggestion of using the toilet was placed forward as a quieter or more secluded area for the mother and was never intended to cause any discomfort or distress."