It is time to overindulge with chocolate on one of the county's Easter egg hunts and trails. Chris Price rounds up what there is to get up to around the county over the long weekend.
Biddenden Vineyards
The Easter bunny hunt will get children exploring the nooks and crannies of the vineyard as they chase clues for their chocolate reward. Adults can enter a competition to win a bottle of Biddenden Cider. The vineyard is between Cranbrook and Tenterden,
When: Easter Sunday from 11am to 4pm. The vineyard itself is open throughout the Easter break.
Cost: Free.
Where: Biddenden Vineyards, Gribble Bridge Lane, Biddenden TN27 8DF
Contact: 01580 291726 or www.biddendenvineyards.com
Bredgar and Wormshill Light Railway
Opening for the first time this year is this two foot gauge line tucked away in a richly wooded area of the North Downs near Sittingbourne. The railway is only open on selected dates each year so don't miss the chance to see the steam locomotives of varying gauges, freight and carriage stock, as well as the steam traction engines. For younger visitors there is the railway shop and a model railway. There are also walks and picnic areas.
When: Easter Sunday. First train 11am, last train 4.30pm.
Cost: Adults £7.50, children £3, under threes free.
Where: Bredgar & Wormshill Light Railway, The Warren, Bredgar ME9 8AT
Contact: 01622 884254 or www.bwlr.co.uk
Canterbury Tales
Children can re-enact the Nun's Priest's Tale over Easter and put themselves in with a chance of winning a family ticket to one of Kent's other top attractions. In Chaucer's fable, a proud rooster named Chauntecleer outsmarts Russell the sly old fox and escapes doom when the fox traps him. Young visitors will be tasked with finding Chauntecleer's eggs around the attraction, each has a letter on them which spell out an Easter-related word when put together. Children who unjumble the letters will get a chocolate egg and be entered into a draw for tickets to Kent Life.
When: Good Friday to Easter Monday from 10am to 5pm.
Cost: Adults £7.95, concessions £6.95, children £5.90.
Where: The Canterbury Tales, St Margaret's Street, Canterbury CT1 2TG
Contact: 01227 784600 or www.canterburytales.org.uk
Dockside Outlet Centre, Chatham
Fifi from the children's TV show Fifi and the Flowertots will meet and greet families while dishing out chocolate treats. Children can also take part in the Dockside Easter egg hunt to be in with a chance of winning £100 of Dockside vouchers.
When: Saturday, April 23 from 10am to 4pm.
Cost: Free.
Where: Dockside Outlet Centre, Maritime Way, Chatham Maritime, Chatham ME4 3ED
Contact: 01634 899389 or www.docksideshopping.co.uk
Down House, Downe near Biggin Hill
The grounds of the former home of Charles Darwin will once again become the scene of discoveries as children crack clues to find out where the Easter eggs are hidden.
When: Good Friday to Easter Monday from 11am to 4pm.
Cost: Adults £9.90, concessions £8.90, children £5.90, families £25.70.
Where: Luxted Road, Downe BR6 7JT
Contact: 01689 859119 or www.english-heritage.org.uk
Drusillas Zoo Park, East Sussex
It is Wierd and Wonderful Animal Encounters day with visitors getting up close to some of natures most quirky creatures. Families can then frog march themselves to the park in search of some slithery and scaly species at the Reptile Roadshow in the Discovery Centre. There is also the Thomas & Friends train ride as well as the animals to see.
When: Weird and Wonderful Animal Encounters on Good Friday. Reptile Roadshow on Easter Monday.
Cost: Family of two £29.40, family of three £44.10, family of four £58.80, family of five £73.50.
Where: Drusillas Park, Alfriston, East Sussex BN26 5QS
Contact: 01323 874100 or www.drusillas.co.uk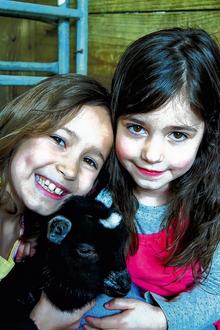 Farming World, Faversham
Easter themed activities go on throughout the weekend with crafts taking place on Good Friday, followed by an egg hunt on Easter Sunday and Easter Monday. Children will have to scour the farm on the Easter hunt. In the afternoon on Easter Monday is an Easter bonnet competition, which has had some spectacular entries over the years.
When: Good Friday to Easter Monday from 9.30am to 5.30pm.
Cost: Adults £6, concessions and children £5.
Where: Farming World, Nash Court, Boughton, Faversham ME13 9SW
Contact: 01227 751144 or www.farming-world.com
Hall Place, Bexley
Narnian-themed egg hunts at the Grade I listed country house will celebrate the DVD release of the movie The Chronicles Of Narnia: The Voyage Of The Dawn Treader. Children will use treasure maps and get involved in some DVD giveaways. Watch out for the Egg olympics at 12.30pm and 2pm.
When: Easter Monday from 11am to 3pm.
Cost: £4 per child.
Where: Hall Place and Gardens, Bourne Road, Bexley DA5 1PQ
Contact: 01322 526574 or www.hallplace.com
Hever Castle, near Edenbridge
Hunt for clues hidden in the garden with the help of Henrietta the Hen to claim that chocolate reward. Look out for a clutch of hens and learn about the different rare breeds. Those with an interest in hen keeping can find out how to set up a chicken coop at home and start collecting eggs each morning. There will be brass bands playing throughout the weekend to add to the festive atmosphere.
When: Good Friday to Easter Monday.
Cost: Adults £14, seniors £12, children £8, families £36.
Where: Hever Castle, Hever, Nr Edenbridge TN8 7NG
Contact: 01732 865224 or www.hevercastle.co.uk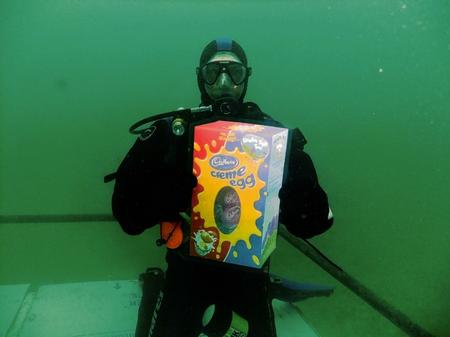 Holborough Lakes, Snodland
Qualified divers can enter an underwater egg hunt to win prizes like a shark tank dive, diving accessories and chocolate eggs. Organised by Nemes Diving & Watersports Academy to raise money for Project Aware, everyone who enters the underwater hunt will enter a draw for a Try Dive for two.
When: Saturday, April 23 from 9.30am
Cost: £7.50 plus £2 donation to Project Aware
Where: Holborough Lakes, Snodland ME6 5PD
Contact: 0750 762 4911 or www.berkeleygroup.co.uk/berkeley/holborough-lakes
Kings Theatre, Chatham
It is time to try and find the big egg at the Spotlights Theatre Company Easter egg hunt and games. Open to anyone aged five to 14, there will be more than 635 eggs up for grabs.
When: Saturday, April 23 from 11am to noon.
Cost: £5 per child.
Where: Kings Theatre, 338 High Street, Chatham ME4 4NR
Contact: 01634 829468 or www.spotlites.co.uk
Leeds Castle
Children can follow a trail through the grounds to collect an Easter egg from the Bunny Burrow. Children with a valid trail card will receive free pumpkin seeds, pots and earth to grow the seeds. The Leeds Castle gardeners will be on hand to give tips and advice on how to grow enormous pumpkins as part of this year's competition Beat the Leeds Castle Gardeners. Children can then return with their pumpkins at autumn half term and the biggest pumpkin will win a prize of a family ticket to November's Firework Spectacular at the castle.
When: Good Friday to Easter Monday.
Cost: Adults £18.50, seniors and visitors with disabilities £16, children £11, under fours free. Tickets valid for a year. Children's trail cards £2.50.
Where: Leeds Castle, Maidstone ME17 1PL
Contact: 01622 765400 or www.leeds-castle.com
Rowhill Grange, near Dartford
One of England's finest traditions is given an Easter-inspired twist as the 18th century country house's executive chef Luke Davis serves up a chocolate afternoon tea. Choose from glossy liquid hot chocolate, handmade white chocolate eclairs, deeply decadent chocolate brownies and crunchy macaroons. There will also be a traditional family Sunday lunch in the Grill Room from 12.30pm to 2.30pm, including an Easter egg hunt.
When: Easter Sunday.
Cost: Chocolate afternoon tea £18 per person, Sunday lunch £30 per adult, £15 per child.
Where: Rowhill Grange, Wilmington DA2 7QH
Contact: 01322 615136 or www.alexanderhotels.co.uk/rowhill
Secret Gardens of Sandwich
The free Easter Bunny trail will see children running around the gardens packed with 140,000 spring flowers in full bloom over the Easter break. While the little ones hunt for chocolate goodies, the rest of the family can listen to head gardener Steve Edney's talks about the work that went on over the winter, including the planting of an extra 36,000 bulbs. A the heart of the attraction is a stunning Grade I listed manor house.
When: Good Friday to Easter Monday 10am to 5pm. Easter Bunny Trail from 11am to 3pm on Easter Sunday. Steve Edney at 2pm over the holiday weekend.
Cost: Adults £6, seniors £5.50, children £3 and under sixes free.
Where: The Secret Gardens, The Salutation, Knightrider Street, Sandwich CT13 9EW
Contact: 01304 619919 or www.the-secretgardens.co.uk
Walmer Castle and Gardens, Deal
Crack the clues to complete the trail. Children who find the missing eggs will be rewarded with a yummy prize.
When: Until Easter Monday from 10am to 5pm.
Cost: Adults £7.30, concessions £6.60, children £4.40, families £19.
Where: Kingsdown Road, Deal CT14 7LJ
Contact: 01304 364288 or www.english-heritage.org.uk