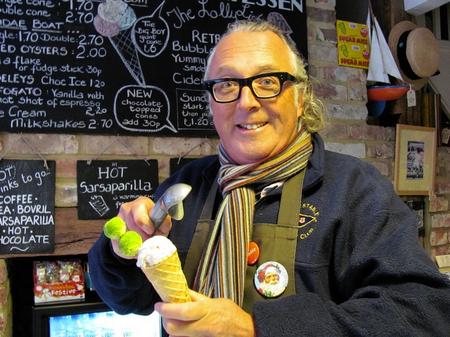 Brussels sprouts may not top many people's favourite festive food list but that hasn't stopped a Kent shop owner creating an ice cream from the green veggies.
Steve Graham, 55, who opened Sundae Sundae in Harbour Street, Whitstable, four years ago, started work on the flavour back in the summer.
He said: "When I asked children what they hated most about Christmas they all said brussels sprouts.
"I promised them that I would change their minds and make them love sprouts and started experimenting. I love a challenge."
After three attempts, the father-of-one came up with the concoction which also features chestnuts and cranberries.
The recipe was then sent to an ice cream farm which produces Mr Graham's stock.
He said: "We always try to come up with new and exciting flavours. The sprouts ice cream has been a real hit and it has
been flying off the scoop.
"It is definitely an acquired taste but it is an addition to the traditional Christmas dinner and works well in between courses as a palate cleanser.
"If I'm honest I didn't really like the first batch I made, but after I got the recipe right it tasted great.
"I love sprouts even without ice cream and could eat a whole plateful.
"We have other Christmas flavours like mince pie and plum and Armagnac. It is nice to have an individual product and as far as I know there isn't anything quite like this on the market.
"It is all a bit of fun and in times of a recession it also helps keep customers coming through the doors during winter.
"We have already started planning a summer ice cream, and I have started experimenting to create a chilli oyster flavour. I want to really encapsulate what the town is all about."
He added: "I guess I see myself as Whitstable's answer to Heston Blumental.
"I love creating and hope people like what I come up with."
For more on the shop visit www.sundaesundae.co.uk