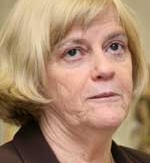 Ann Widdecombe lost out in the race to become the 157th Speaker of the House of Commons.
The Maidstone backbencher polled 30 votes in the second round on Monday and was automatically eliminated.
The Conservative MP John Bercow won the ballot, polling 322 votes in the final round to beat fellow Tory Sir George Young (271) into second place.
He replaces Michael Martin, who left the post during the MPs' expenses row.
Ms Widdecombe had urged MPs to back her pitch with a well-received speech setting out her thoughts on how the job should be done.
Making clear that she would only be a temporary Speaker until the next election, the former minister - among the favourites for the job - said her key priority would be to clean up Parliament.
Speaking third in the debate after Margaret Beckett and Sir George Young on Monday afternoon, the Maidstone MP sought to make the fact she could be a short-term appointment an advantage over fellow candidates.
"What is unique about me is that I am proposing myself as an interim Speaker rather a permanent one or long term appointment. I have become convinced that what we need between now and the next election - and after the next election will be too late - is the restoration of the reputation of Parliament with the public," she said.
"If we go into the election without that being achieved then I think there will be considerable consequences for our democracy which could be very considerable.
"We need somone in these extraordinary circumstances who has proven capable of connecting with the public, someone who the public knows and who the public trusts, recognises and is willing to listen to."
Read Paul's live blog on the contest
She also made clear that any overhaul of the allowances' system should not deter people of "modest means" from entering Parliament.
"Whoever is Speaker will not only have to clean up the mess but will in doing so have to bear in mind that however much we tighten the system and come down on those who have erred, we should always put it as a core principle that people of modest means should not be deterred from entering the House," she said.