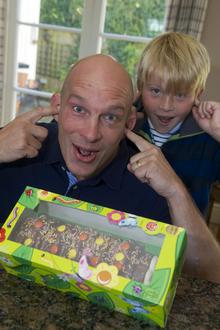 by Julia Roberts
It was meant to be a surprise treat for his son's birthday during a family holiday in Spain, but any planned surprise turned to unexpected shock for father-of-three Justin Barrett - when the chocolate cake in his hand luggage tested positive for explosives.
The Sainsbury's Wiggles the Caterpillar cake sparked a bizarre security alert at Stansted Airport, which included the 41-year-old from Meopham being searched and interrogated by customs officials.
Mr Barrett, who ironically works in the security industry in Dartford, had planned to surprise his son, Freddie, with the cake for his ninth birthday in August.
His wife, Kathryn, also 41, had flown out to Spain a week earlier with their three children and her parents.
Mr Barrett was due to fly out to Alicante to join his family and had strict instructions not to forget the cake, which he had bought from the Pepper Hill store and was still in its sealed box.
But it led to him coming under even stricter scrutiny from officials when the cake revealed traces of explosives.
"I'd had the cake in my hand luggage and customs asked to check inside after it had passed through the x-ray machine," explained Mr Barrett.
"To the officer's surprise there was a chocolate Caterpillar cake inside my bag. He then swabbed the inside of the bag and put it into a little machine.
"That's when it ended up going bleep and the customs officer said it had found traces of explosives.
"He then asked me if I had any contact with explosives or been shooting lately. At that point I told him my job entailed working in security.
"The officer swabbed all the items in my bag. Everything was tested but it was just the cake box and my hands that were testing positive for traces of explosives."
"i was worried they would want to test the cake itself and i'd have to explain a half-eaten cake to my son…" – justin barrett on his airport security experience
It was then that Mr Barrett was escorted into a private room where, under the watchful gaze of customs officials and an armed officer he had to remove clothing and hand over his passport for checks.
After an anxious 40 minutes, Mr Barrett's details checked out and the cause of the positive test is believed to have been the plastic wrapping on the box.
"The customs guy said that acetate on certain wrappings often showed up as explosives in their tests.
"To be honest, it was all very light-hearted and I totally understand they had to follow their procedures.
"I was worried they would want to test the cake itself and I'd have to explain a half-eaten cake to my son."
A Stansted Airport spokesman said: "Our security officers are trained to be 100% certain as to the reason for any activation during the security process and a more detailed search and questioning may be required.
"While some completely innocent items can trigger the alarms, our overriding priority has to be providing a safe and secure airport for passengers and staff."
The incident has left Sainsbury's a little baffled.
A spokesman said: "This is the first time we have heard of this kind of thing happening and we are investigating it.
"We're very sorry for the inconvenience this caused to our customer."